Connection Rates for Calling Prospects and Customers during COVID-19
As mentioned in a previous post, the Tele Business USA team will continue to provide insights and analysis of data trends, connection rates and conversion rates. In light of the United States now topping the confirmed case count in the World and nearly 17 million people filing for unemployment between March 15 and April 4, we are still seeing success in both connection and conversion rates.
An Update on Connection Rates
Connection rates continue to be holding steady at average levels. Obviously, this is a key metric for us and as such, we are watching it closely. In this update we break down our connection rates between Prospect calling programs vs existing Customer/Client calling programs: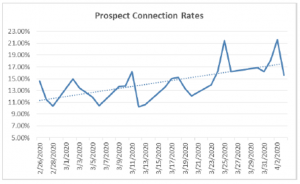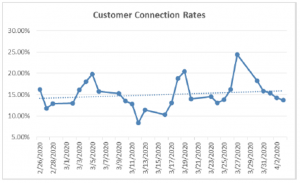 A couple of notes from what we are seeing in these two graphs:
You will notice a dip on March 12; the day after President Trump's evening oval office address regarding the COVID-19 outbreak.
Prospect Connection Rates have increased (interestingly) over the past 30 days while Customer Connection Rates have remained more constant over the same time period.
If we dive a bit deeper into the Connection Rate data and look at states that have "Shelter in Place" orders vs those that do not, we do (as expected) see a difference in Connection Rates. Interestingly however, both are above our statistical norms which are usually 9% - 11%, as seen in our last update. Plus, the trend line shows that both are slightly rising: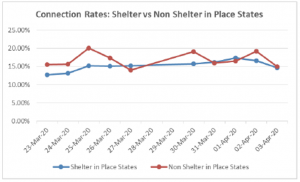 Adjustments to Messaging
Not every prospective company is ready to have a conversation with your company right now, which is understandable and expected. However, the fact that we are still able to have conversations is encouraging and bodes well for the future! Calling has continued for many clients, but this is not without continual adjustments to our messaging based on market conditions. It is imperative that your prospects and customers continue to hear from you so that they know you're still in business and are ready and able to handle their requests. It is also more important than ever to communicate your ability to understand their needs and plant seeds for the future.
The Great Pivot of 2020
The status quo of the past few years is no longer working. Businesses must adapt (and adapt quickly!). To that end, we have seen the following trends in the type of projects clients are running:
Customer Outreach: With field sales being limited to travel and social distance protocols, our calling teams are now contacting entire client portfolios (within a matter of days,) and scheduling phone appointments/Web Ex's for field sales to interact and support all of their clients. The primary goal here is to keep field representatives engaged and speaking with customers/prospects by feeding them a steady supply of appointments.
Trade Show Disruption: In light of conferences being canceled, clients are using our services to contact attendee lists to schedule virtual meetings and webinars. We can typically generate more leads at a lower cost per lead than the cost of exhibiting at the trade show.
Transitioning in-person to phone-meetings: Clients that were once running on-site appointment setting programs are now transitioning to virtual meeting, supporting a practice of social distancing.
Customer Service: Several clients have sent their inside sales groups home and they are not set-up to work virtually. Tele Business USA has been operating a virtual call center since 1992 so we already have an infrastructure in place so clients can keep their calls flowing, without disruption.
As I mentioned in my last update email, the one constant in life is that change is inevitable. We feel it is our obligation to share as much data as possible to help both our clients and prospects succeed. Please feel free to email me or give me a call at 847-897-3019 to discuss any of the above, or simply bounce an idea off our team.
Good luck and stay safe!